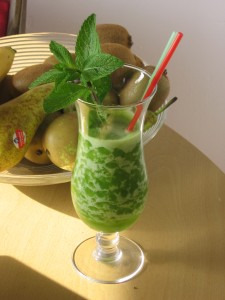 Zoals mijnheer de Strandkammer al opmerkte hebben we op zijn verjaardagspartij voornamelijk teruggegrepen naar onze favorieten. Maar aangezien er van die favorieten ook weer verschillende recepten rondzwerven hier mijn favoriete recept voor de Missionary's Downfall. Word round the camp fire is dat ons aller Beachbum Berry binnenkort met een update van zijn eerste 2 boekies komt, getiteld Beachbum Berry Remixed. Grappig detail is ook dat de oude boekjes die wij al een paar jaar in bezit hebben inmiddels zijn uitverkocht en voor dikke doekoe op Amazon worden aangeboden. Ik ben benieuwd wat het recept voor de Missionary's Downfall in dit nieuwe boekje zal zijn, aangezien hij in latere seminars een recept gebruikt dat heel anders is dan dat in de Grog Log. Vooral de toevoeging van honey mix is wat mij betreft een gouden greep wat deze cocktail gelijk tot een all-time favorite heeft gemaakt.
1/2 ounce fresh lime juice
1/2 ounce peach brandy (Bols is beter dan DeKuyper)
1 ounce white

Bacardi

Havana Club rum
1 ounce Don's honey mix (one part honey, one part water)
2 ounces diced fresh pineapple (1 ring)
10 leaves fresh mint
6 ounces crushed ice
GARNISH: Tip of a mint sprig (3 or 4 leaves on short stem) placed in the center of drink.
Put everything in a blender (except garnish). Blend at high speed for 20 seconds at least one minute. Pour into a saucer champagne Hurricane glass.
De hoeveelheid ijs die je erbij dondert is erg belangrijk. Te veel en hij is niet meer door een rietje te drinken, te weinig en hij wordt te waterig. Een bijkomend voordeel is dat we deze waarschijnlijk tot in het einde der tijden kunnen blijven drinken. Niet zoals onze geliefde cocktails met Lemon Hart Demerara 151. Het gerucht gaat namelijk dat deze key rum, waar eigenlijk geen enkele tiki-lover zonder kan, uit de handel genomen gaat worden. Wordt het tijd om te hamsteren? En zoja, hoeveel flessen dan?